Stefan DOHR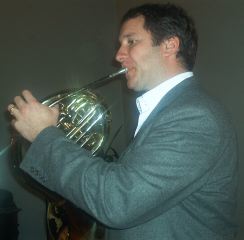 Click on the picture to see it enlarged
Stefan Dohr ha studiato ai Conservatori di Essen, con Wolfgang Wilhelmi, e di Colonia, con Erich Penzel.
Nel 1985 ha ottenuto il posto di primo corno presso la Frankfurt Opera. Ha poi ricoperto il medesimo incarico nella Orchestra Filarmonica di Nizza, nella Deutsches Symphonie Orchester Berlin e nella Bayreuth Festival Orchester.
Dal 1993 è primo corno della Berliner Philharmoniker Orchester.
Oltre agli impegni orchestrali, Stefan Dohr è attivo in tutto il mondo con gruppi da camera e come solista. È membro del Wien-Berlin Ensemble, e suona come solista sotto la direzione di Claudio Abbado, Daniel Baremboim, John Elliot Gardiner, Roger Norrington e Jeffrey Tate.
Stefan Dohr ha tenuto Master Classes all'Accademia Chigiana, al Conservatoire National de Paris, ed ha insegnato alla Hochschule der Künste di Berlino. Attualmente insegna alla Herbert von Karajan Accademy ed è Professore Ospite presso il Conservatorio Hans Eisler di Berlino.
Ha inciso per la Campanella Music le composizioni per corno e pianoforte di Franz e Richard Strauss.
Stefan Dohr studied in the Conservatories of Essen, with Wolfgang Wilhelmi, and Köln, with Erich Penzel.
In 1985 he got his first jobas principal horn at Frankfurt Opera. He then hold the same post at Nice Philarmonic Orchestra, Deutsches Symphonie Orchester Berlin and Bayreuth Festival Orchester.
Since 1993 he is principal horn of the Berliner Philharmoniker Orchester.
Besides his orchestral work, Stefan Dohr is active all over the world with chamber groups and as soloist. He is a member of the Wien-Berlin Ensemble, and plays as a soloist with Claudio Abbado, Daniel Baremboim, John Elliot Gardiner, Roger Norrington and Jeffrey Tate.
He has given master classes at Accademia Chigiana, Conservatoire National de Paris, ed has taught at the Hochschule der Künste in Berlin. He presently teachesat the Herbert von Karajan Accademy and is Guest Professor at the Conservatory Hans Eisler in Berlino.
He has recorded the compositions for horn and piano by Franz and Richard Strauss for the Campanella Music label.
---